Invite Todd and Kristin to Speak!
Are you looking for dynamic speakers for your podcast, workshop, conference, or retreat? We offer a variety of speaking topics to choose from for your special event.
2023 Speaking Engagements
We're honored to be speaking on "Four Ways to Strengthen Your Marriage While Caregiving" and "How Churches Can Strengthen the Marriages of Couples Caring for Children with Disabilities."
We're thrilled to be speaking on "Tools to strengthen your marriage while caregiving."
2022 Speaking Engagements
We enjoyed sharing about how to make traveling with disabilities more affordable and accessible at Chicago Seminars.
We had a blast speaking at Wonderfully Made Family Camp!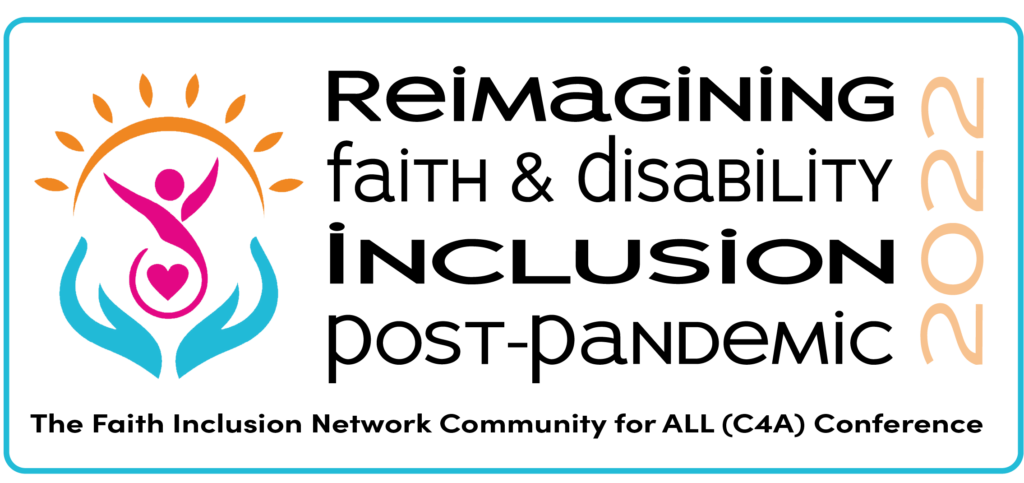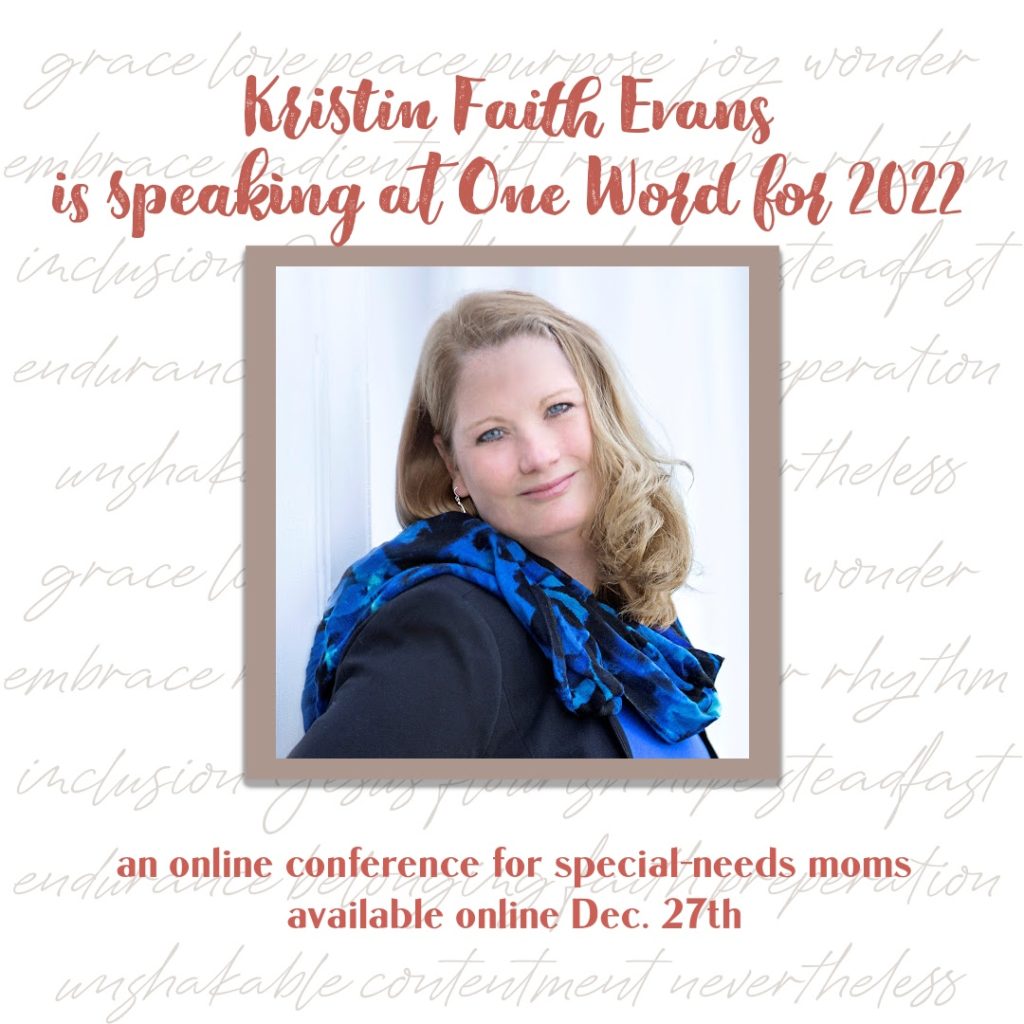 Interviews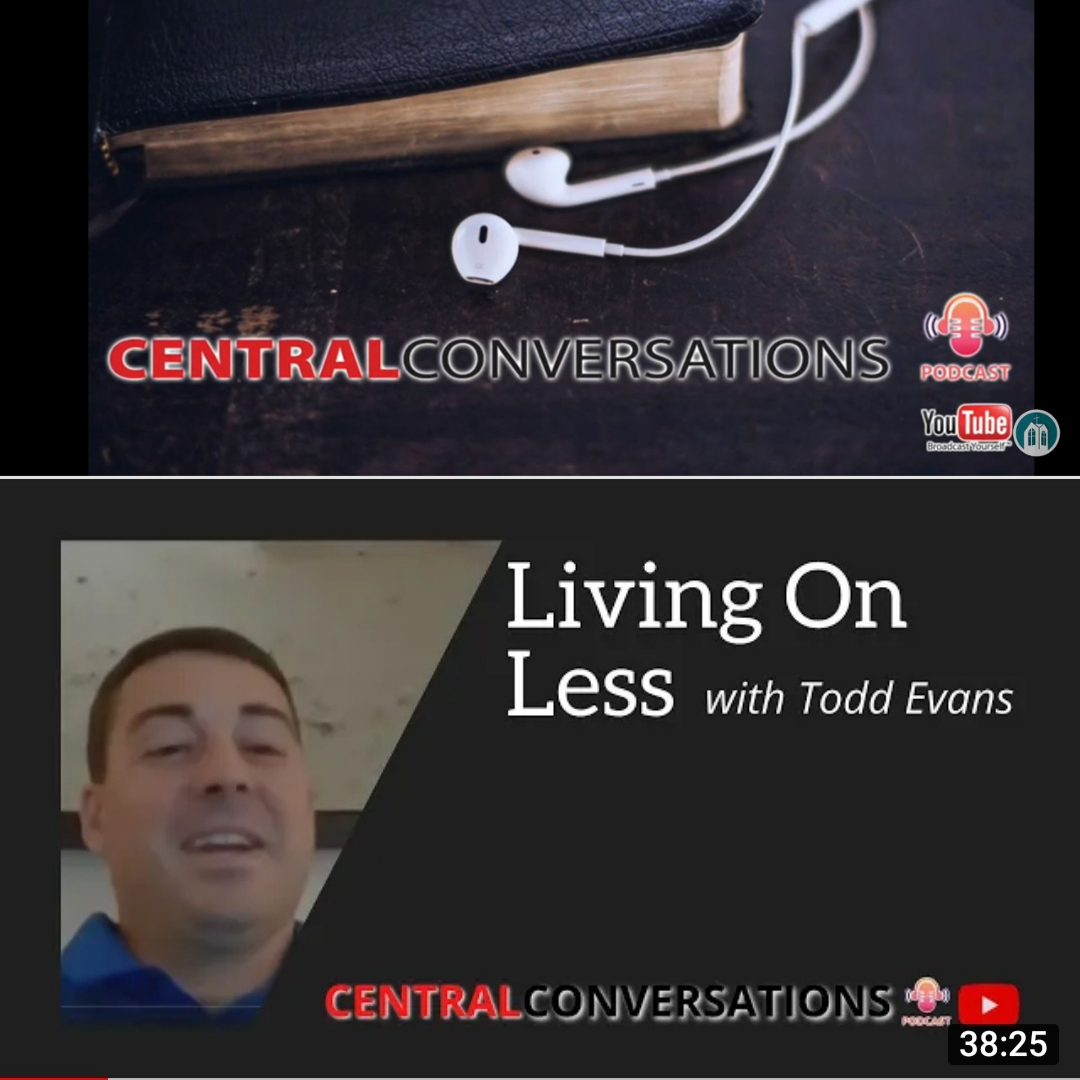 Listen to Todd's podcast interview on Central Conversations.
From Pastor Scott Layer:
"Welcome to Central Conversations, a podcast of conversations with interesting people who can help with issues we face in life. Today's podcast is an interview with Todd Evans on how to live on less. If you find this podcast helpful, we ask that you like it, subscribe and share it with others. Todd has learned how to maximize the value of a dollar. In the interview, he identifies four areas to focus on to stretch your dollars. 1) Couponing, 2) Garage Sales, 3) Credit Card Points and Travel and 4) Gift Cards."
"Do breaks from school cause stress and anxiety for you or your child? In this episode of the Water Prairie Chronicles, Kristin Faith Evans continues her talk with Tonya about some of the techniques she uses to keep peace in the family during breaks from school and even on the weekends. Kristin is the author of the Special Needs Moms Blog, and this part of her interview was inspired by an article she posted on her blog."
Watch on the Water Prairie Chronicles Podcast
"Being a caregiver for special needs children is not an easy path, and our mission on the Water Prairie Chronicles is to come alongside disability families and give them support. In this episode, Kristin Faith Evans joins Tonya to share her story of being a medical mama and caregiver for special needs children. Kristin talks about how her journey began with her first child and how her parenting path changed after her second child entered the family."
This is the first episode of a 2-part series with Kristin, and we think you'll enjoy meeting this author, speaker, mother, wife, and mental health specialist!
Watch on the Water Prairie Chronicles Podcast
"Our guest, Kristin Faith Evans, shares with us about her struggles with faith, mental health, and how shame over difficult feelings about our situations, isolate us. She discusses how God taught her to reframe the message she was telling herself and step into the light of support, community, and love."
Listen on the Take Heart Special Needs Moms Podcast
From Cathy Krafve:
"In this episode, Kristin returns to share much more about how she conquered her depression by setting aside bitterness and training her heart for joy. Plus, a ton more about mental health. I loved how vulnerably she talks. You will, too. No wonder she is a sought after speaker at parenting conferences all across the country. "
Listen on Fireside Talk Radio.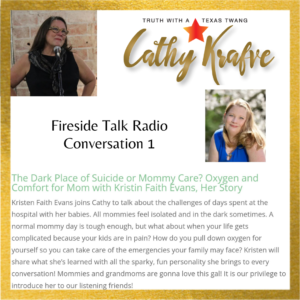 From Cathy Krafve:
"In this episode, Kristin shares about the anxiety and panic she felt about her children's care. And how her bitterness spiraled into depression and helplessness. She shares more details about her suicide attempt and how God intervened. Next week, she shares about overcoming dark moments and finding joy in this day."
Listen on Fireside Talk Radio.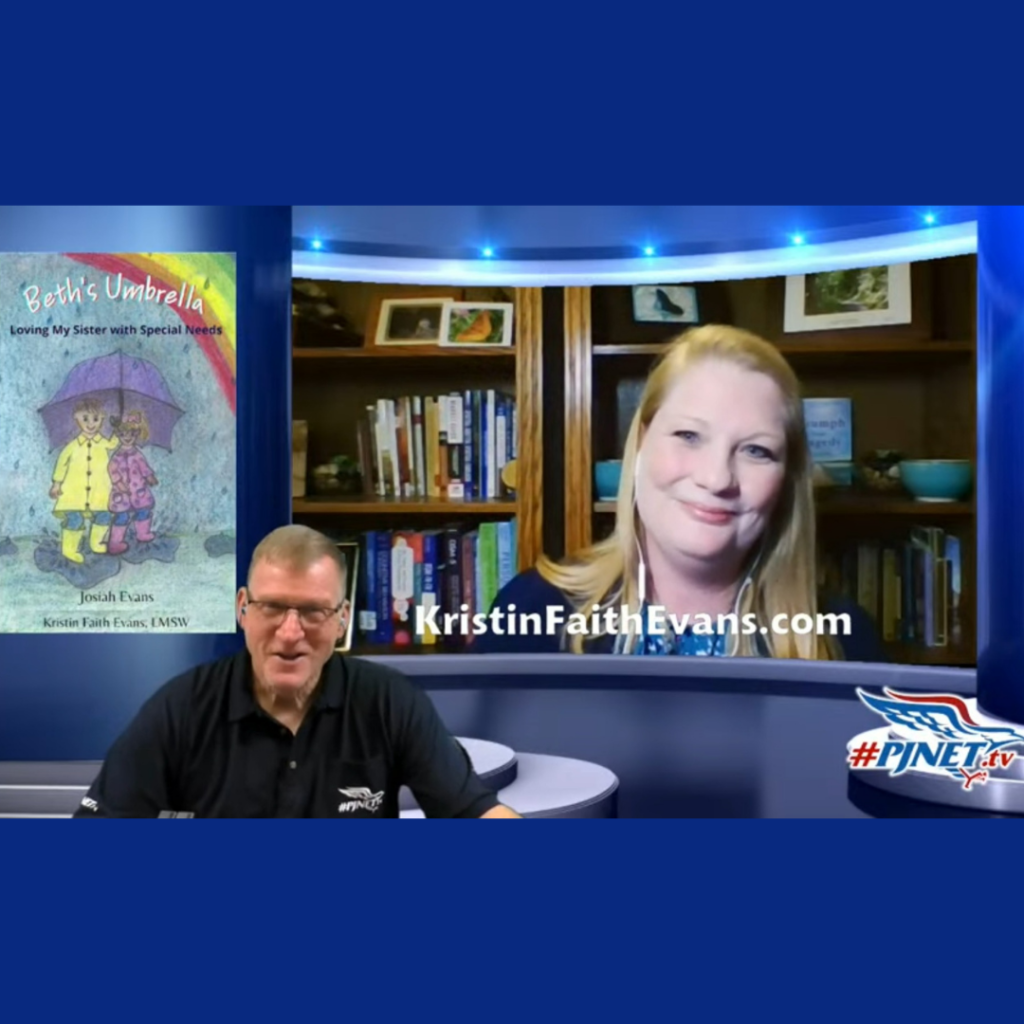 Join Kristin with Mark Prasek on PJNET.tv as they talk about everything from parenting children with special needs, faith, mental health, and how pulling weeds is therapeutic.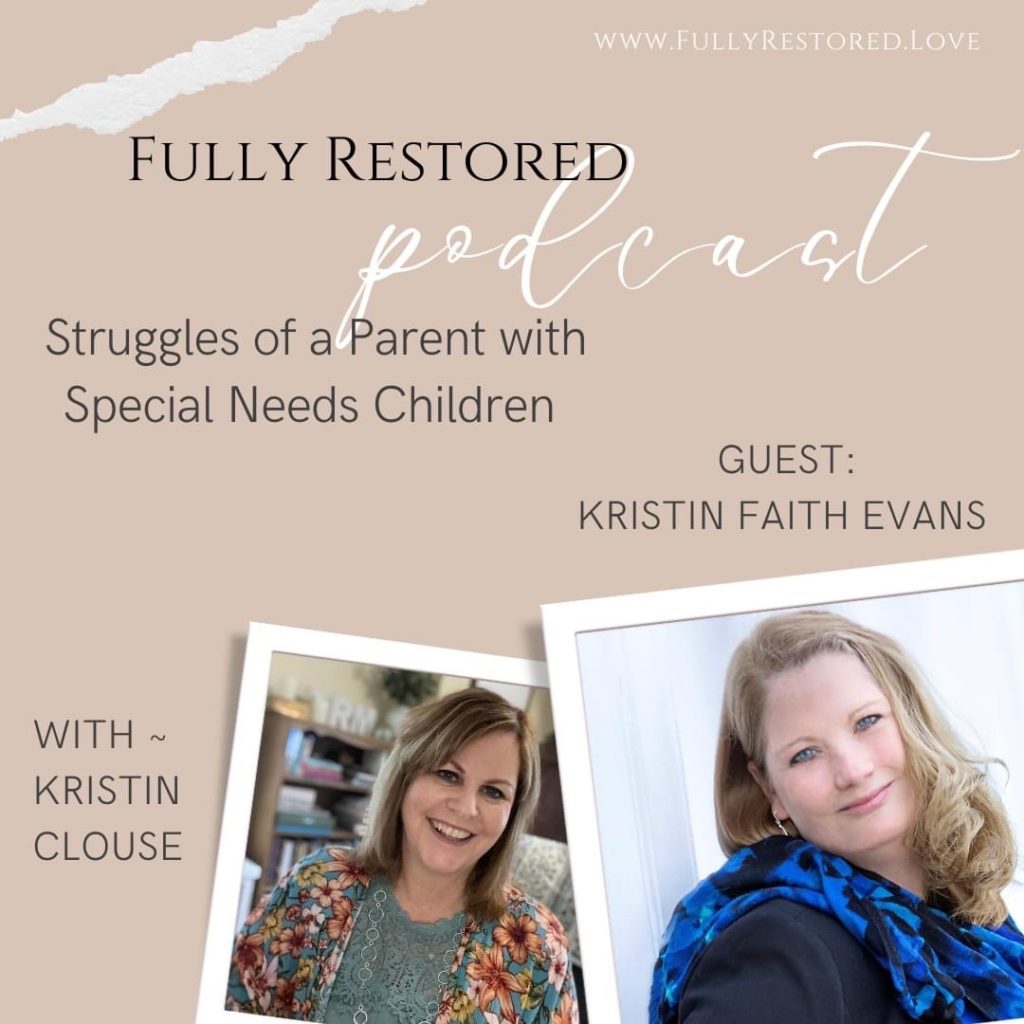 Join Kristin on the Fully Restored Podcast with author and speaker Kristin Clouse as she shares her inspiring story about the adjustments and struggles she's had as a mom raising two children with special needs.
From Kristin Clouse:
"Kristin's journey became so overwhelming as her depression increased to the point where she attempted to take her own life. God moved in her behalf, and Kristin woke up in ICU where her life was changed. She began the process of finding the right help and support for the journey of restoring her life."
Listen on the Fully Restored Podcast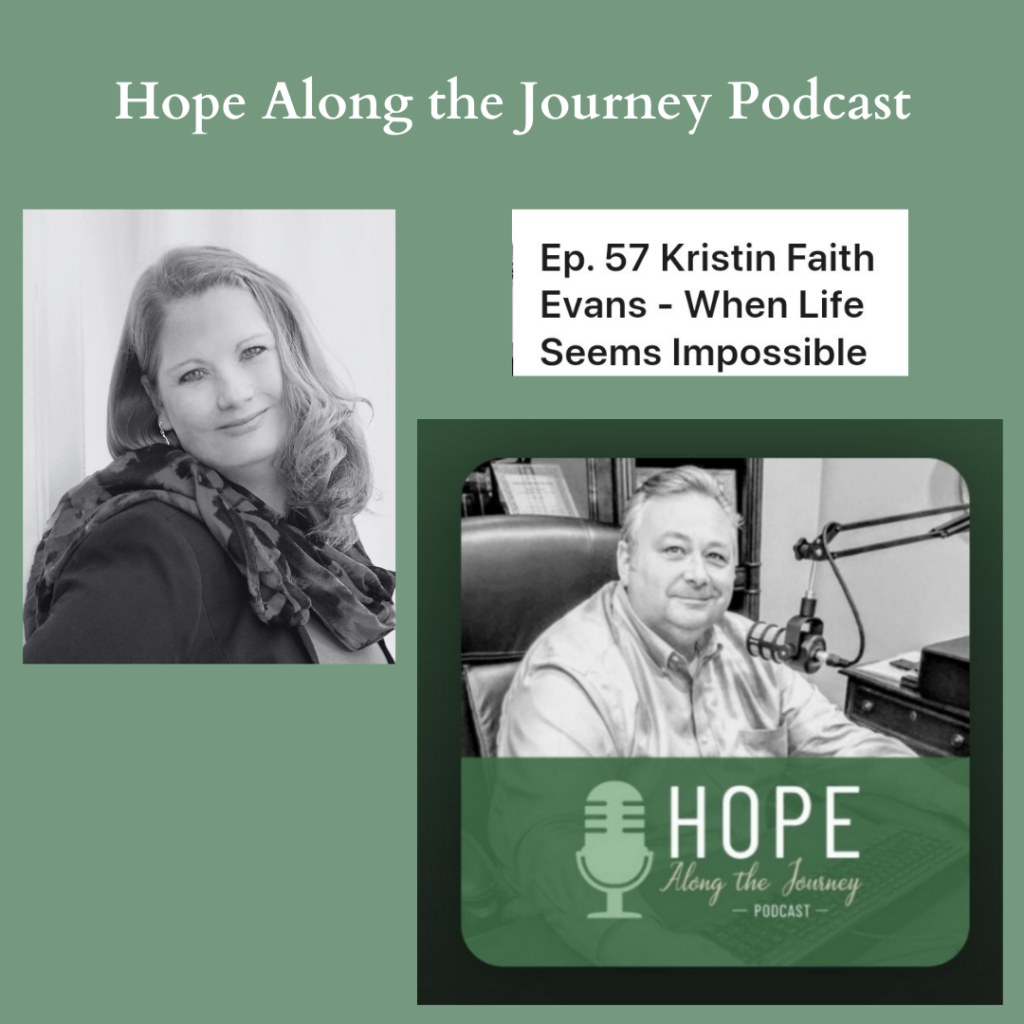 From Mark Cravens at Hope Along the Journey Podcast"
"As a mother of two children with rare genetic disorders and complex needs, Kristin felt that her life was impossible to bear. Over time, she lost faith and became angry at God, questioning His goodness as she looked at her burdensome life. But fortunately, Kristin found her way back to the faith she once held dear and the loving God who had a plan and a purpose for her life even through the hardships she faced. Her story is a remarkable story of grace, hope, and redemption."
Listen to Kristin's empowering story on the Hope Along the Journey Podcast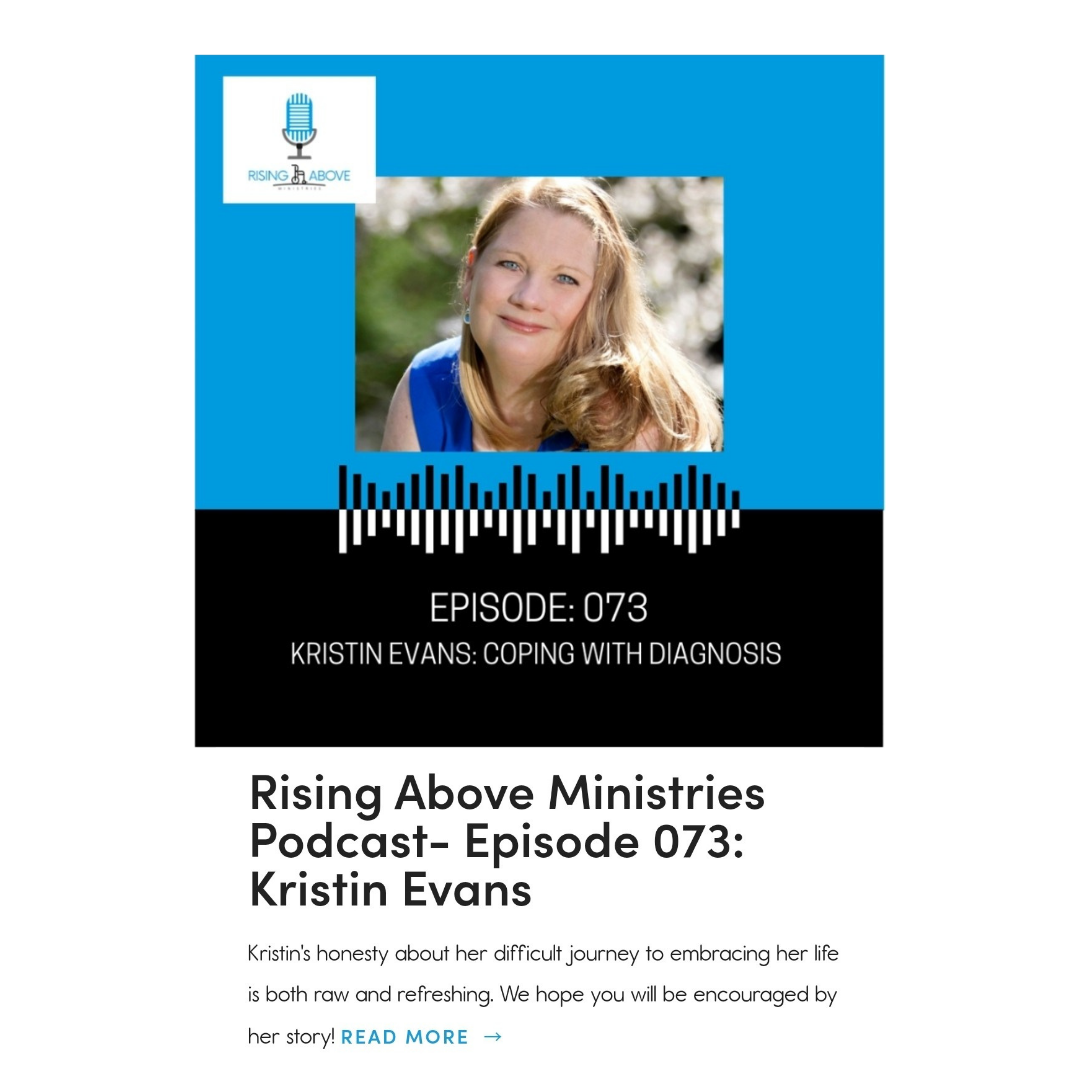 From Becky Davidson–
"Kristin's honesty about her difficult journey to embracing her life is both raw and refreshing. We hope you will be encouraged by her story!"
Listen on the Rising Above Ministries Podcast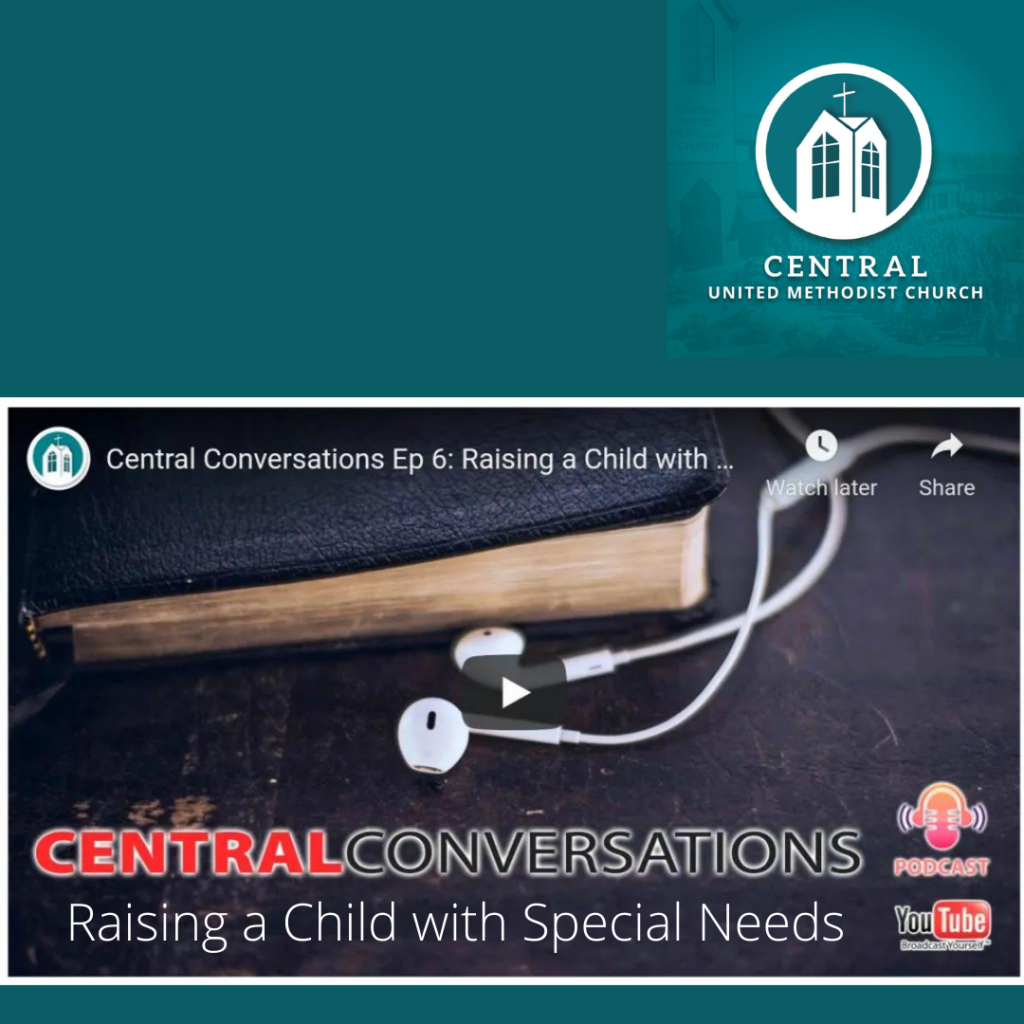 Kristin invites you to listen to her honest conversation with Dr. Scott and Kate Layer at Central United Methodist Church in Lenoir City, Tennessee.
They look at several challenges and joys of caring for children with special needs including:
Churches and special needs ministries
Faith struggles and spiritual growth
Caregiver mental health
Strain on the marriage relationship
Joys of special needs parenting
Sibling concerns
Stress management
Helpful resources